Southwind Condos For Sale in Myrtle Beach
Let Southwind Oceanfront Condos Drive Your Investment Sails.
A lavish resort complete with pristine beaches and lush landscaping await your arrival at Southwind Oceanfront Condos in Myrtle Beach.  This property features reflecting pools, walkways surrounded by perfectly manicured gardens, and an exceptional entrance that will convince that you made the right investment in this location.  You'll be able to select a condo that has from one to five bedrooms smartly appointed with a tropical ambiance.  Perhaps the sunrise seen from your private balcony can persuade you that the day is going to be perfect and that plenty of activities are waiting for you just beyond your doorstep.  Located in the heart of Myrtle Beach you'll be close to all of the attractions and action that keeps you engaged during your stay.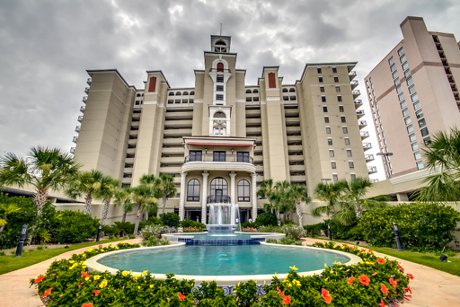 While you or your guests are staying at Southwind you'll have access to an 80-foot outdoor oceanfront pool, a 90-foot oceanfront pool, an indoor pool, a 185-foot lazy river, three oceanfront whirlpools, and a fully-equipped exercise and fitness facility.  Condo ownership at Southwind also puts you close to endless shopping, spectacular live shows, award-winning golf, amusement parks, water parks, all types of water sports, and the beach where the action never stops.  You'll find over 1,600 restaurants along the Grand Strand that boast some of the finest cuisine, over 100 golf course, and charter boat excursions that can put you up close and personal with marine wildlife.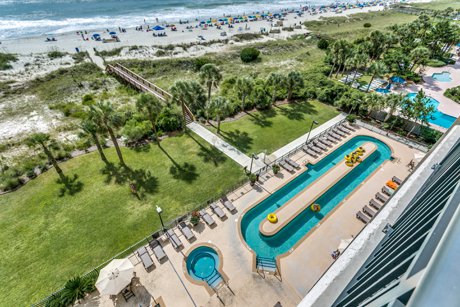 Once you see the ceramic tile entryway and the upscale appointments in your condo you'll realize that your home away from home is going to be memorable.  The condo will feature coffered and tray ceilings along with granite countertops in the kitchen and bath areas, spacious and open floor plans, and architectural touches that make the quality of this condo second to none.  You or your guests will find everything that they need to make the time they spend in the Low Country both enjoyable and relaxing for them and their family.
This luxury oceanfront condo location has 89 units that are both beautiful and functional for you.  You'll find these condos have more square footage than the normal units along the Grand Strand and are stylish and appealing.  The gorgeous landscaping of palms and native flowers create a tropical flavor to this Myrtle Beach property.  You'll feel more of a home-style atmosphere in your Southwind Oceanfront Condo that will keep both you and your clients coming back again and again.
If you like Southwind be sure to check out Island Vista Condos For Sale and Dunes Village Condos For Sale.
No current listings, please check back later.