Pawleys Island Oceanfront Condos
Situated on the coast of South Carolina, Pawleys Island is a small island, four miles long and a quarter of a mile wide. This beautiful seaside locale, one of the oldest tourism destinations in the country, is located on the south end of the Grand Strand, just 12 miles north of historic Georgetown and 20 miles south of Myrtle Beach. Pawleys Island is a renowned historic resort town with a relaxed and family atmosphere in a tranquil, laid back setting with a myriad of recreational opportunities to fit the lifestyle so many have come to love.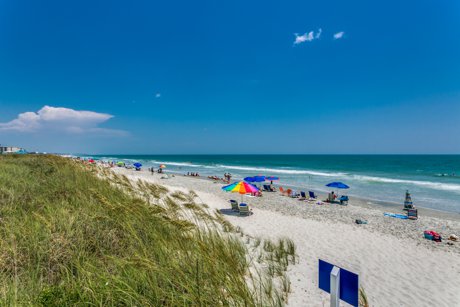 Pawleys Island real estate has other benefits as well, there are a lot of properties available on the market in varied price points to suit just about any budget. What you may not afford on the water in Myrtle Beach you may be able to find in Pawleys Island. There are single family homes, vacation homes and condos as well as golf villas; there is a style of home along with the right price and location to make you want to stay forever. There's no shortage of fun activities either, within five miles you will find 10 top notch golf courses and over 100 more in the local area as well as one of the most incredible tennis complexes in the U.S.
There are no high rise condos or large commercial structures on Pawleys Island, they have done a good job of keeping the island as natural as possible. Just a short drive away you'll find Huntington State Park, Brookgreen Gardens, Murrells Inlet, and Georgetown. Investing in property on Pawleys Island is investing in South Carolina as it used to be, preserving a time past.
Oceanfront Condos
There are also some incredibly luxurious oceanfront condo resorts in the area that shouldn't be missed. These are not like the average cookie cutter Myrtle Beach resorts, but more like the elegant million-dollar beachfront condominiums in South Beach. One resort in particular that you should make a point to see is Crescent at Litchfield Beach. The Crescent offers three and four bedroom single level units and each unit is spacious and well furnished with fully equipped kitchens. Amenities featured include swimming pool and cabana, saltwater fishing lakes, walking and biking paths, tennis, and so much more.
Sandpiper Run at Litchfield Beach is another great choice to consider when looking for Pawleys Island oceanfront condos with choices between two, three, or four bedroom single or bi-level condo units with expansive design layouts and private balconies with forever views. All units have fully equipped kitchens and master suites have upgraded luxury baths. Sandpiper Run has shares the same amenities with Crescent.
Other area condo communities that are a must to check out include:
Avian Forest
Inlet Point Villas
Osprey Watch
Shipyard Village
And many more
Pawley's Island is a paradise for those who love the beach lifestyle and want to be away from all of the craziness of Myrtle Beach and yet close enough to enjoy it when you want. Give us a call today and let us show you your new dream home.