North Myrtle Beach Oceanfront Condos
North Myrtle Beach and the entire Grand Strand region has so much to offer in the way of natural resources that it's no wonder the area is one of the fastest growing in the country. There are all kinds of condo for sale from those on the Intracoastal Waterway and of course the locales for which the area is legendary, North Myrtle Beach oceanfront condos. The area also has well over one hundred championship golf courses with golf villas, condos and townhomes on almost all of them. Here are a couple of the condo offerings in North Myrtle Beach:
Avista Oceanfront Resort
One of the North Myrtle Beach condo offerings is the Avista Resort which is conveniently located near Main Street with live entertainment and dining. For real estate investors, Avista is a particularly smart choice due to the excellent rental histories of the resort. Avista has a very distinctive Art Deco design that makes it stand out from others around it and the appearance at night must be seen.
Floor plans at Avista range from 550-1600 square feet with a variety of configurations and options available to choose from. All of the units here come with full kitchens equipped with modern appliances, tiled entries and due to the unique architecture of the buildings almost every room has an expansive view of the Atlantic. There are great amenities including swimming pools, hot tubs, a pool side grill area and a lazy river.
Baywatch Resort
Baywatch Resort is an oceanfront condo development in North Myrtle Beach that is possibly the most popular of any in the region due not only to the luxurious accommodations but also because of the peaceful environment of the North Myrtle Beach locale. All of the rooms have been designed to give the most optimal view possible so that you can see the ocean as well as other water features throughout the property. Baywatch Resort is near Yacht Club Villas and Barefoot Landing in the middle of North Myrtle Beach. Some of the other incredible North Myrtle Beach condos also include:
North Beach Plantation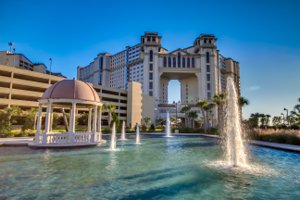 North Beach Plantation has been a distinctive landmark of the North Myrtle Beach skyline for a few years boasting an unsurpassed high class lifestyle. This development features twin oceanfront towers and luxury villas.
Atlantic Breeze Ocean Resort
Atlantic Breeze Ocean Resort is one of the most popular with residents, owners, and guests alike. This property also has great rental histories for real estate investors.
We are experts in North Myrtle Beach oceanfront condos for sale and rent as well as other properties all along the Grand Strand, give us a call today. 843-424-6900.
No current listings, please check back later.