Yacht Club Villas For Sale at Barefoot Resort
Breathtaking views of the Intracoastal Waterway and the Yacht Club Marina will help make your private balcony in Yacht Club Villas at Barefoot Resort your luxury window on the Coastal world in the Low Country of South Carolina. You'll find two, three, and four bedroom villas available that feature sophisticated appointments. From spacious floor plans ranging in size from 1600 to just under 2500 heated square feet, to exceptional amenities like world-class golf and the area's finest dining, shopping, and entertainment Barefoot Yacht Club Villas will captivate you with its Southern charm and a lifestyle that is second to none on the East Coast. From the oversized pool to the tropical landscape you'll enjoy the grounds, the tennis courts, the music permeating through the gentle ocean breezes, and a new way of living that improves your attitude, your health, and your well-being.

Yacht Club Villas
Each Villa is generously appointed with features that offer you comfort, space, and areas to entertain your family and friends. In most Villas, each bedroom has its own bath for privacy, ample closet space for your personal belongings, and entrance foyers that give you the "wow" factor as soon as you enter the Villa. The open design invites your guests to enjoy the views, relax in a comfortable interior design, and to meet and make new friends in this upscale community. From the yachts sailing by your windows to the sunsets over the Intracoastal Waterway, you'll come to appreciate Coastal living at its finest in Yacht Club Villas at Barefoot Resort.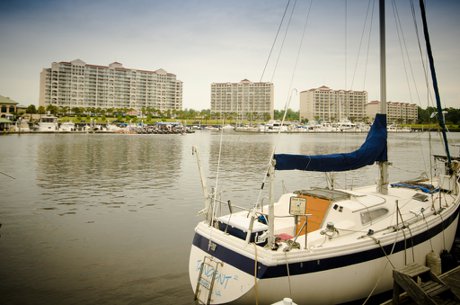 North Myrtle Beach
This location offers you prime opportunities to enjoy fine dining, great shopping, outstanding entertainment, and first-rate golfing that are all located just minutes from your Villa. You'll have all the advantages of the Grand Strand where there's something for every member of your family but you can retreat to your piece of paradise at Barefoot Resort at the end of the day. You'll be only five minutes from the sparkling blue Atlantic where you can take a romantic stroll, enjoy an exhilarating morning run, or bask in the afternoon sun to work on your tan.
From opulent furnishings to quality construction one of the Yacht Club Villas at Barefoot Resort will make an outstanding residence or a wise investment for your portfolio. This 2300 acre planned community is across the waterway from Barefoot Landing Shopping Center and a wide variety of opportunities for adventure and excitement. Biking, walking, swimming, or sipping a cool beverage on your balcony are all daily options at the Yacht Club Villas at Barefoot Resort.
Call us for more information about Yacht Club Villas or any other Barefoot Resort community 843-424-6900 or email us. Check out Edgewater, Marina Inn at Grande Dunes, and other North Myrtle Beach real estate.
No current listings, please check back later.